How social history is depicted in movies has always fascinated me. I will offer some films that sprang to mind as I reviewed happy snaps from my recent visit to the United Kingdom.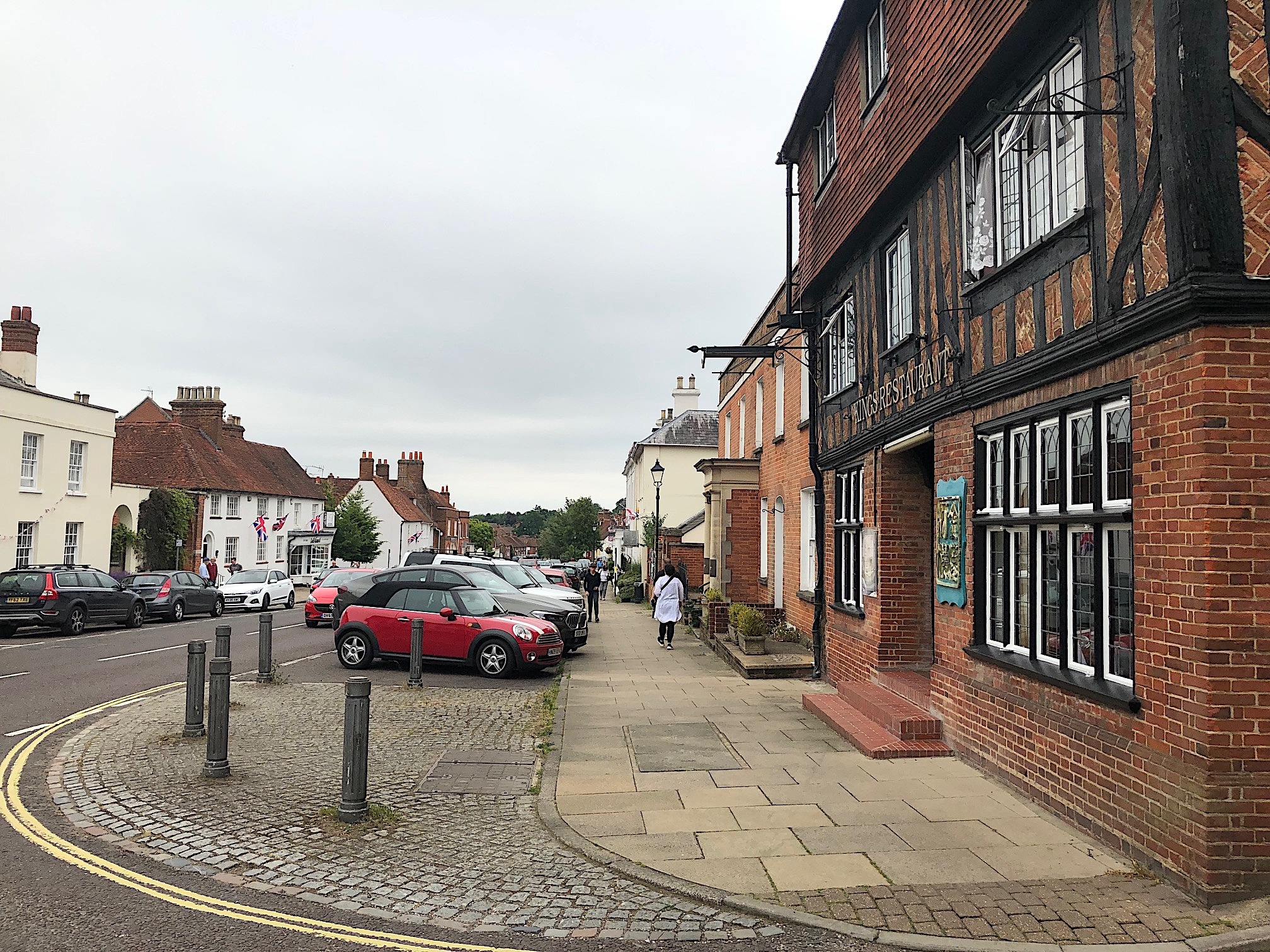 From the age of five, I walked down Odiham High Street hundreds of times before I sailed to Australia at nineteen. In 1953, I had watched from this spot, as part of a cheering crowd, newly-crowned Queen Elizabeth pass up High Street with her motorcade, an event which provided Britain with a much needed mood lift after the hardships of World War Two. It was a hopeful time. Rationing was ending after a dozen years. For example, sausages had been rationed from 1943. The way some people in rural districts got around the rules is the subject of a deliciously wry comedy of middle class rivalry A PRIVATE FUNCTION, starring Michael Palin and Maggie Smith and Denholm Elliot, who capture the sensibility of post war village life with affection, social comment, and mordant humor. It's a lot of fun in the spirit of those classic Ealing comedies. Here's the trailer.
Visiting this June, I found that Odiham, despite inevitable modernization, continues to retain that home counties village charm that I recall from my childhood. It's a sought-after location as the million pound realtor's price tag on this house in the High Street indicated.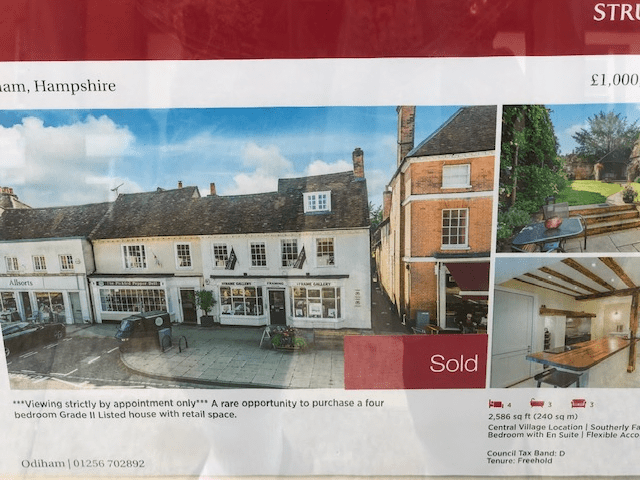 My parents bought Kings Cottage, the house in which I grew up, for four thousand pounds sterling in 1953. Alas, the original Georgian portico with stained glass inlay is no longer there.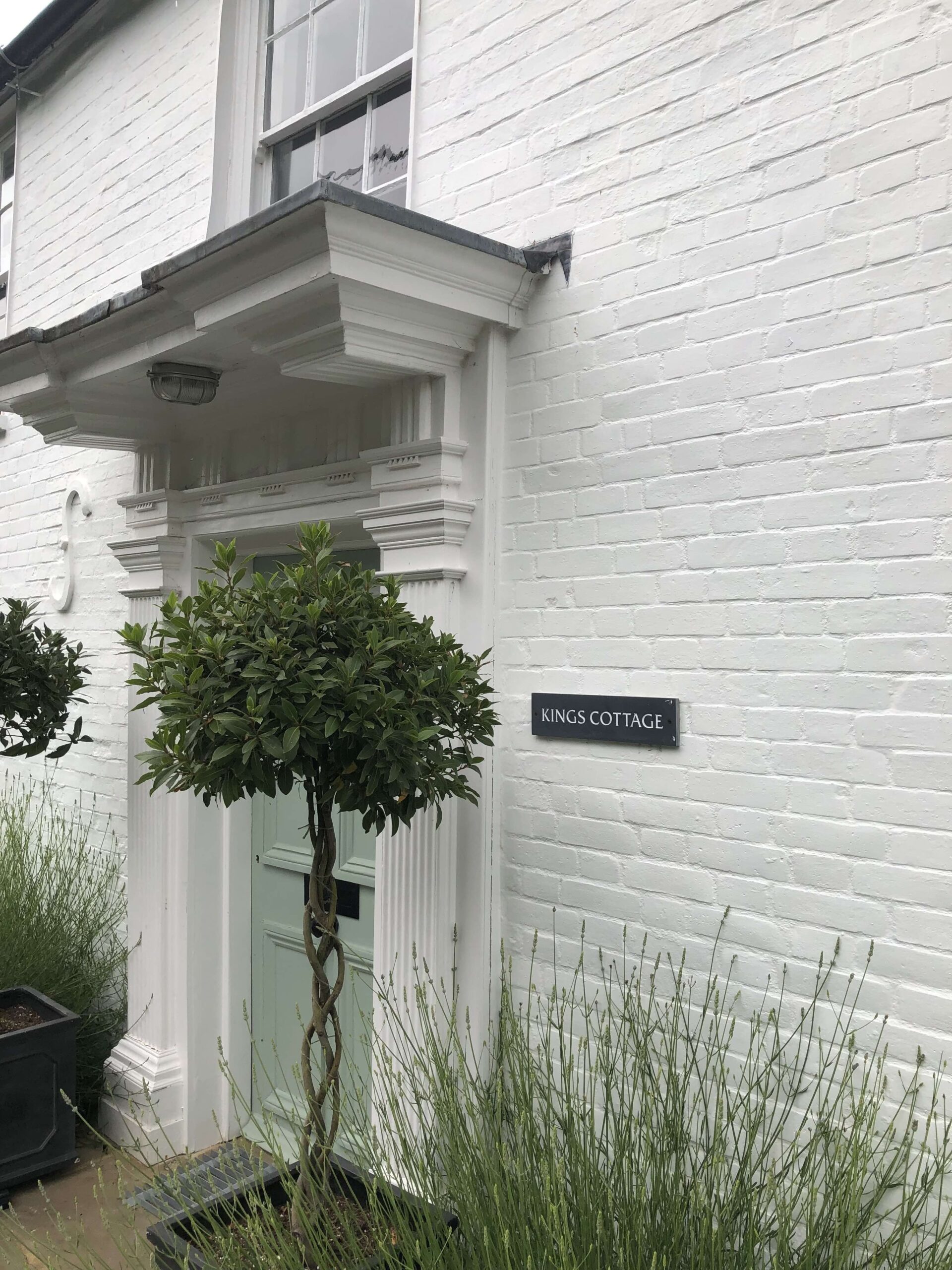 During my 10 years of boarding school, I would live in Kings Cottage four months of holidays each year. The house faced onto a large field,  containing community vegetable garden allotments. All gone now.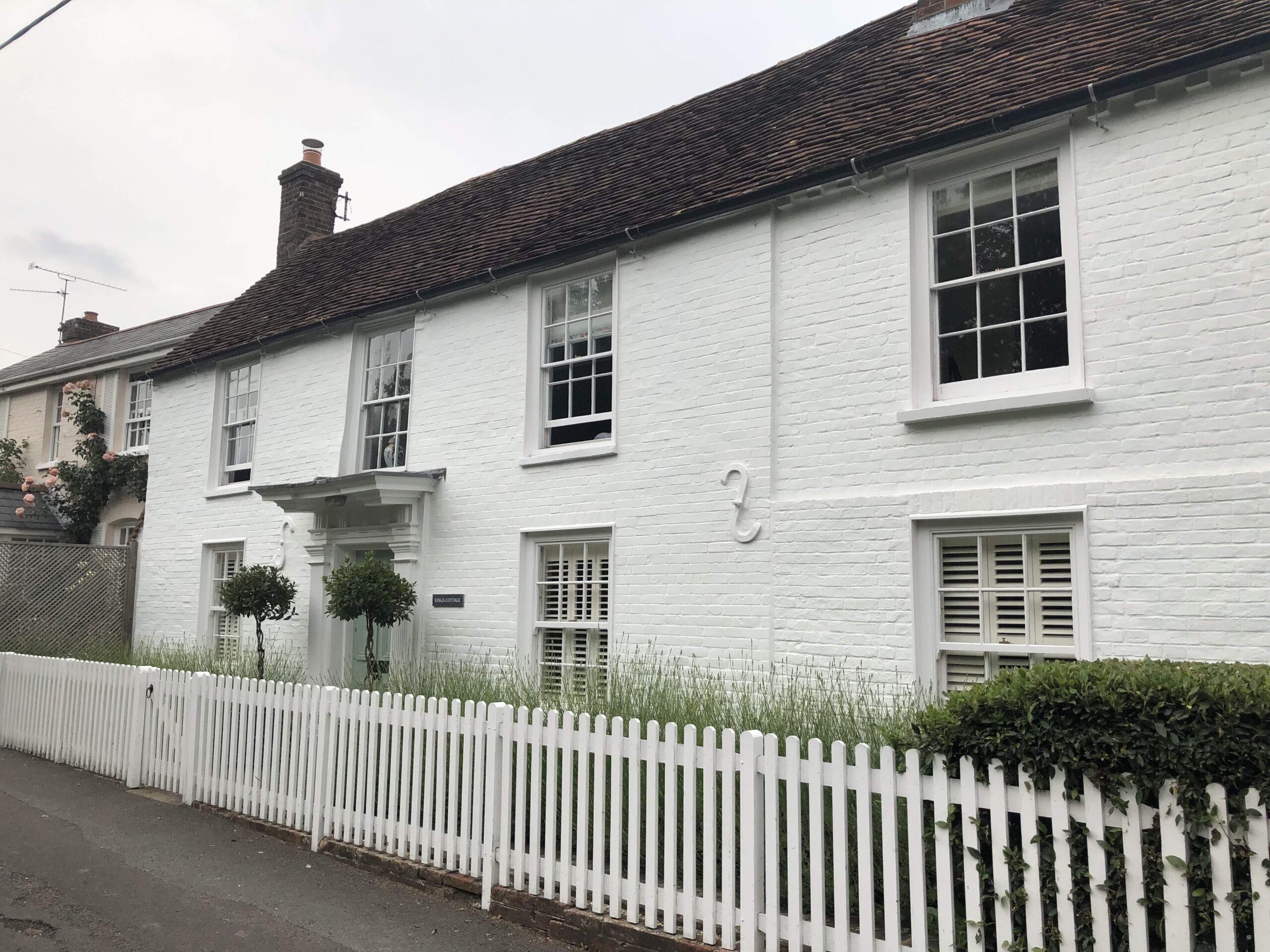 Each day, I would walk down King Street to where it ended at Odiham's Norman era Church. The first recording of Odiham as a township was in the Doomsday Book of 1086.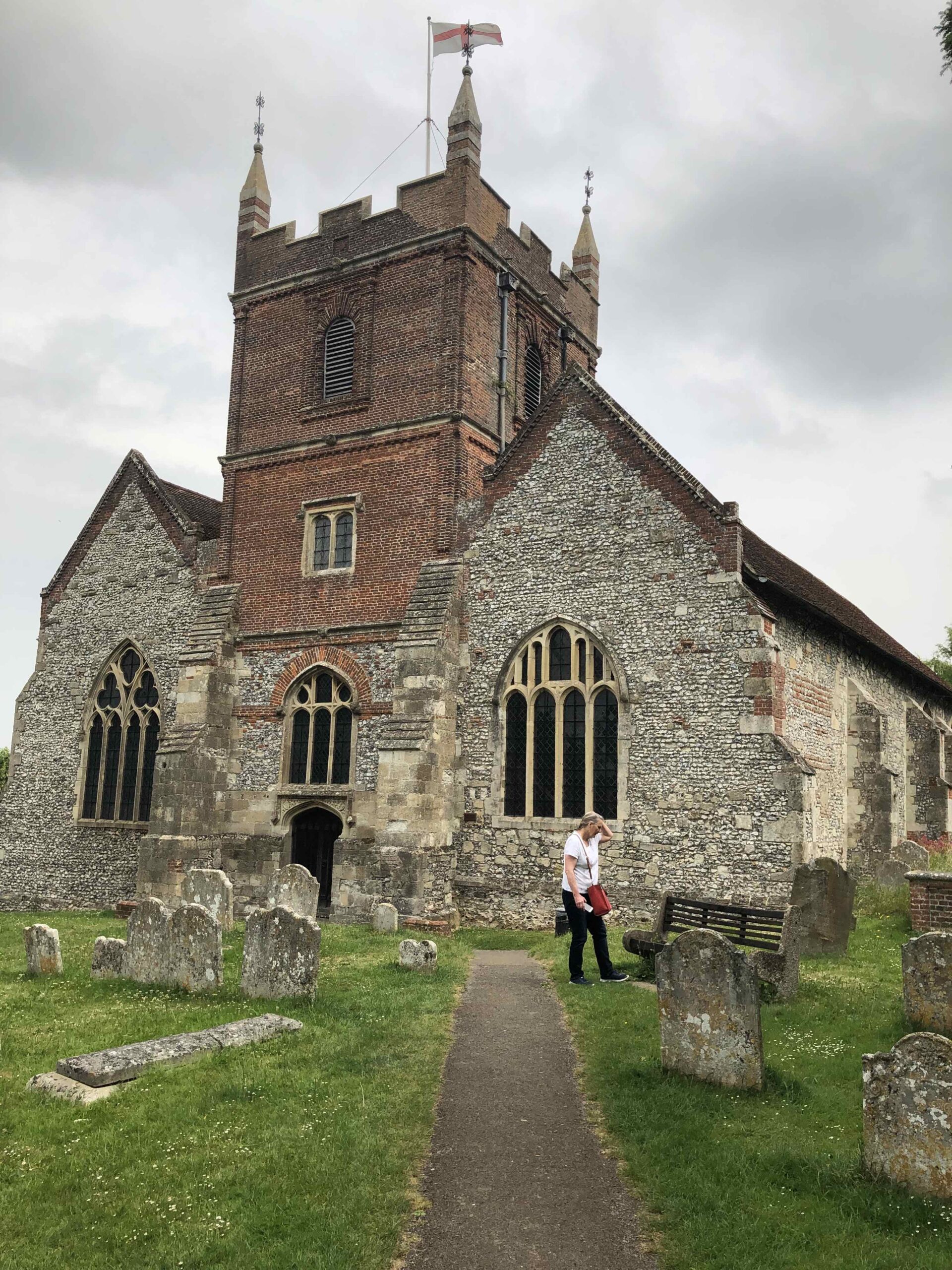 Walking through the churchyard, I came across the graves of two French naval officers, prisoners of the Napoleonic Wars, inscribed with the words: Death Hath Made Him Free.
Naturally, my mind wandered to the Napoleonic Wars (1803 – 1815), in particular naval warfare of that period as it has been depicted in movies. I have two particular favorites.  HMS DEFIANT (UK)/ DAMN THE DEFIANT (US). A ripe, early sixties, patriotic melodrama, with Dirk Bogarde and Alec Guinness at the top of their game, and some well-staged battle action. As a seventeen year old, I loved it.
And, of course, with greater depth and nuance, there is Peter Weir's excellent distillation from the MASTER AND COMMANDER books.
Walking down from Odiham Church, on the way to the High Street, I would enter Stoney Alley, the key points of which have been documented and preserved, where possible, by the Odiham Society.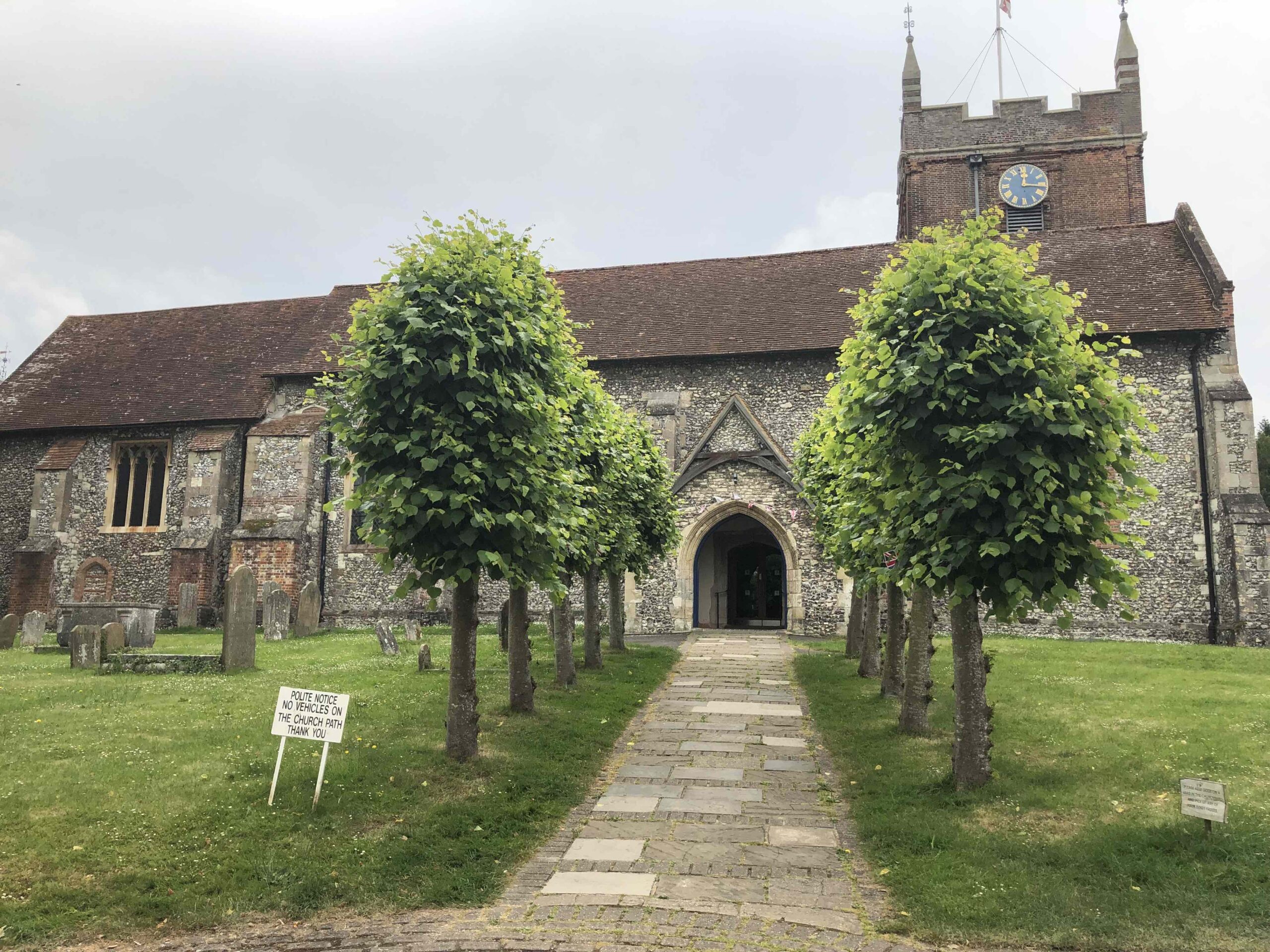 Among the interesting artifacts on display are the stocks, a form of punishment authorized by local courts which imprisoned the feet or hands of minor offenders, enabling offended community members to pelt the helpless victims with rotten vegetables and excrement. This form of public shaming has now been replaced by the social media.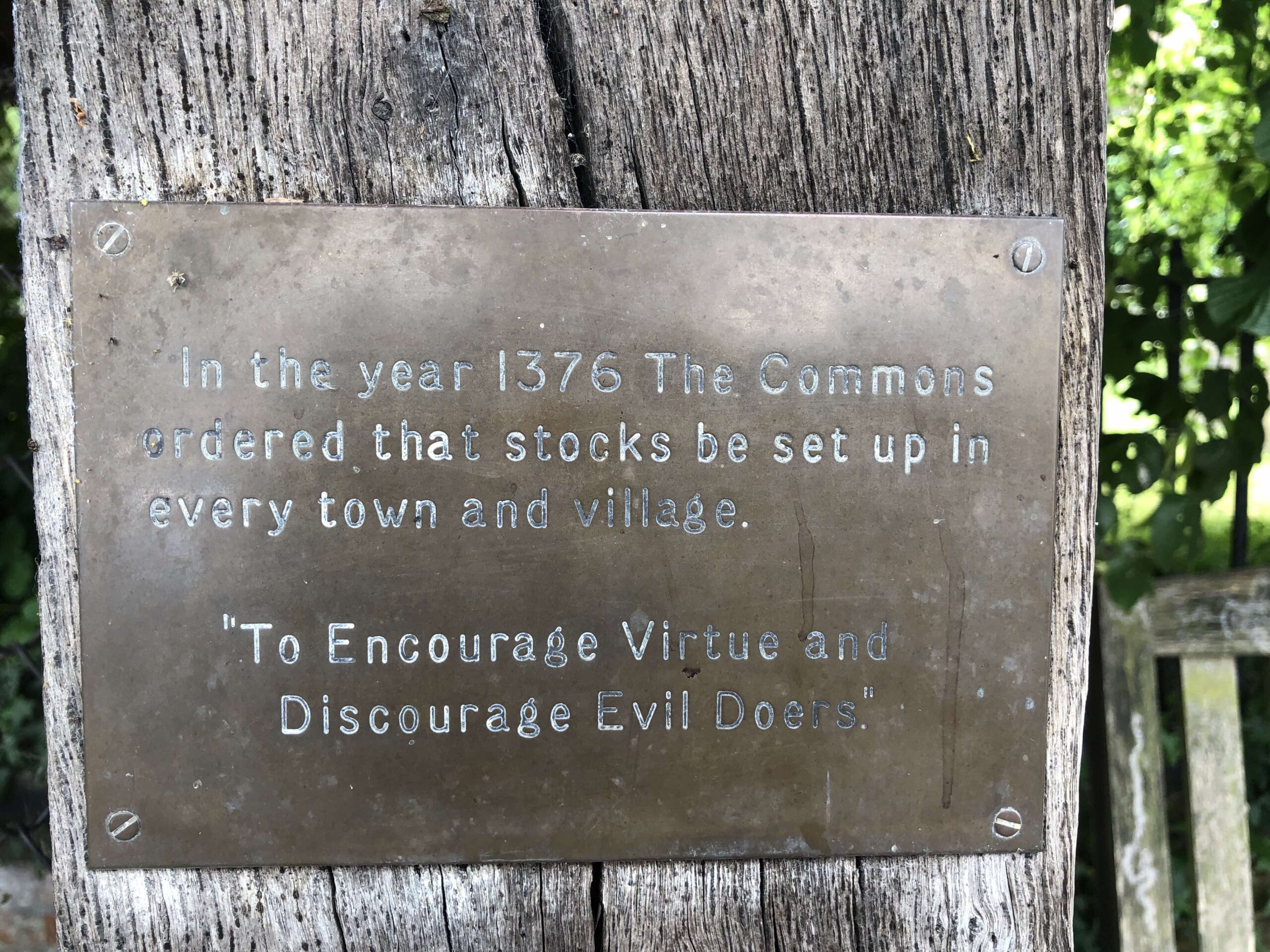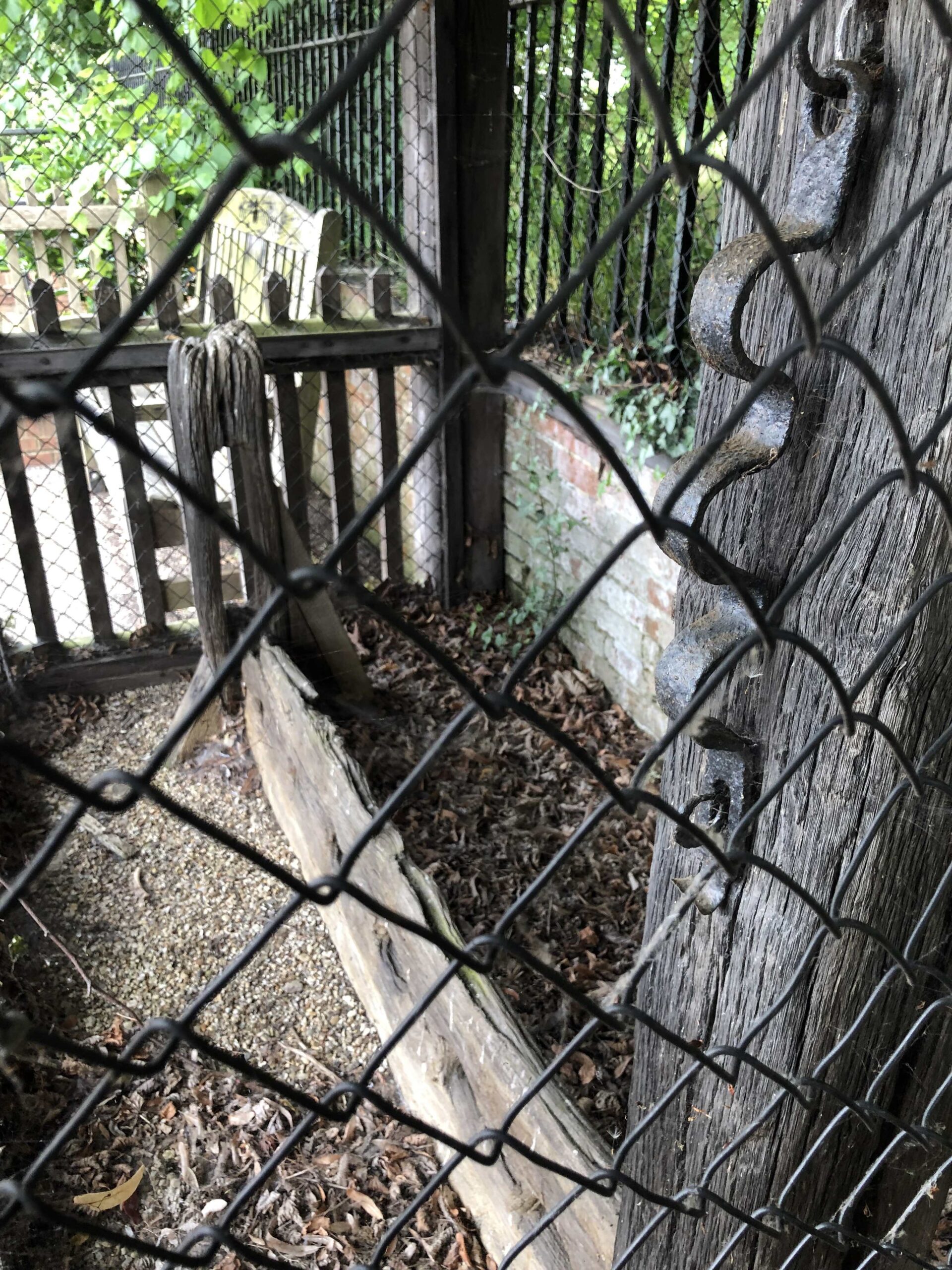 Often accompanying the stocks in medieval times was another engine of stress position torture – the pillory. This gives me the opportunity to show you a scene cut from the original theatrical release of A KNIGHT'S TALE, starring Heath Ledger and Paul Bettany. The distributor wanted to reduce the running time and cut three sections, including this lengthy speech by Paul Bettany, playing Geoffrey Chaucer, author of The Canterbury Tales, in which he pleads for his friend. Bettany demonstrates his Shakespearian skills in this masterful piece of rhetoric. He was disappointed that it was cut from the film, but was glad to see it back in the Blu Ray. Check it out here.
Reaching the High Street, it was time for a sandwich and local ale at the George Hotel, where as a youth I got away with underage drinking due to being six foot tall at age thirteen.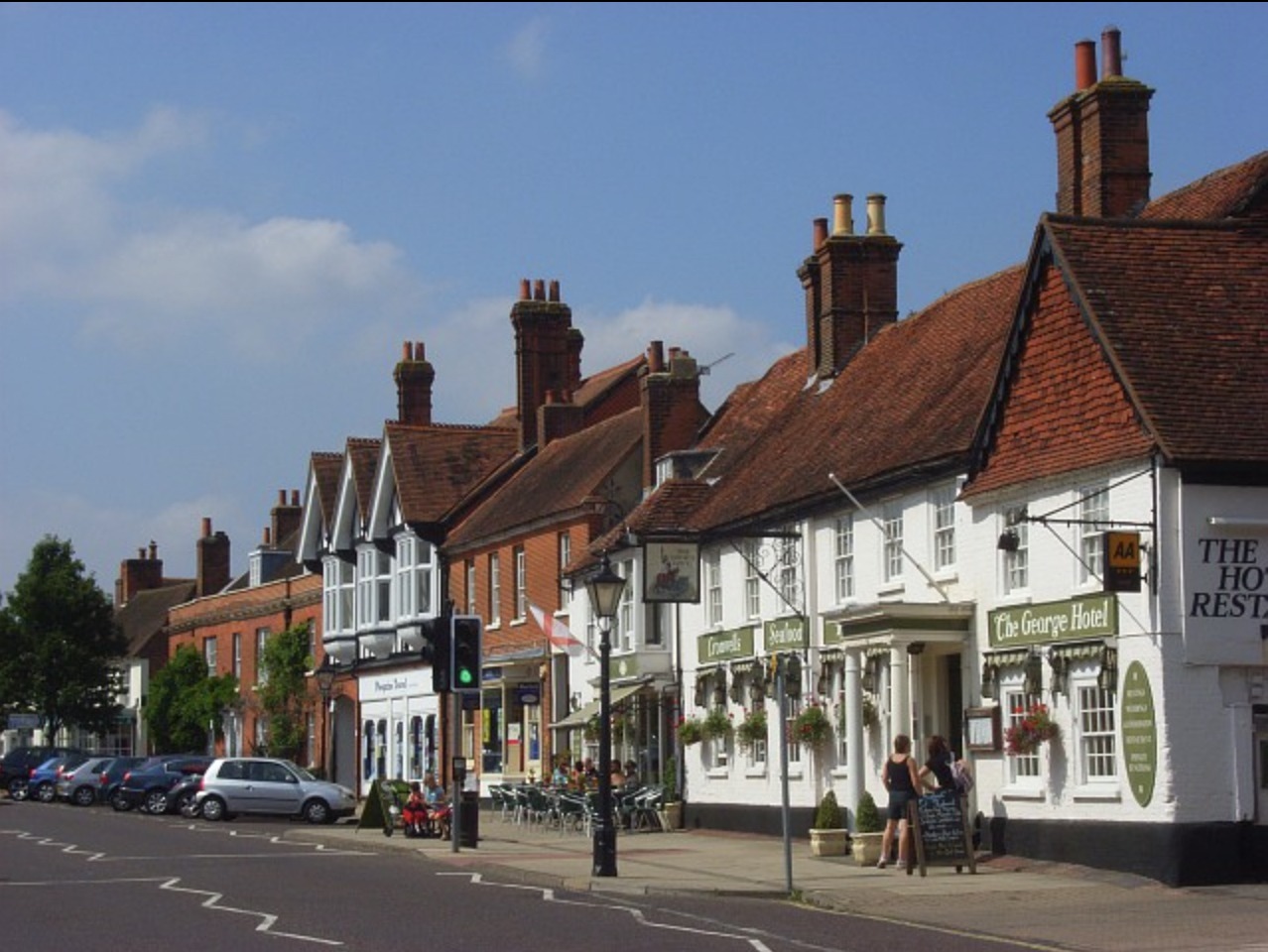 Margaret would like to clarify she does not drink alcohol (I drink enough for both of us). A pleasant ale, less bite than an Oregon IPA, but ideal for a summer afternoon.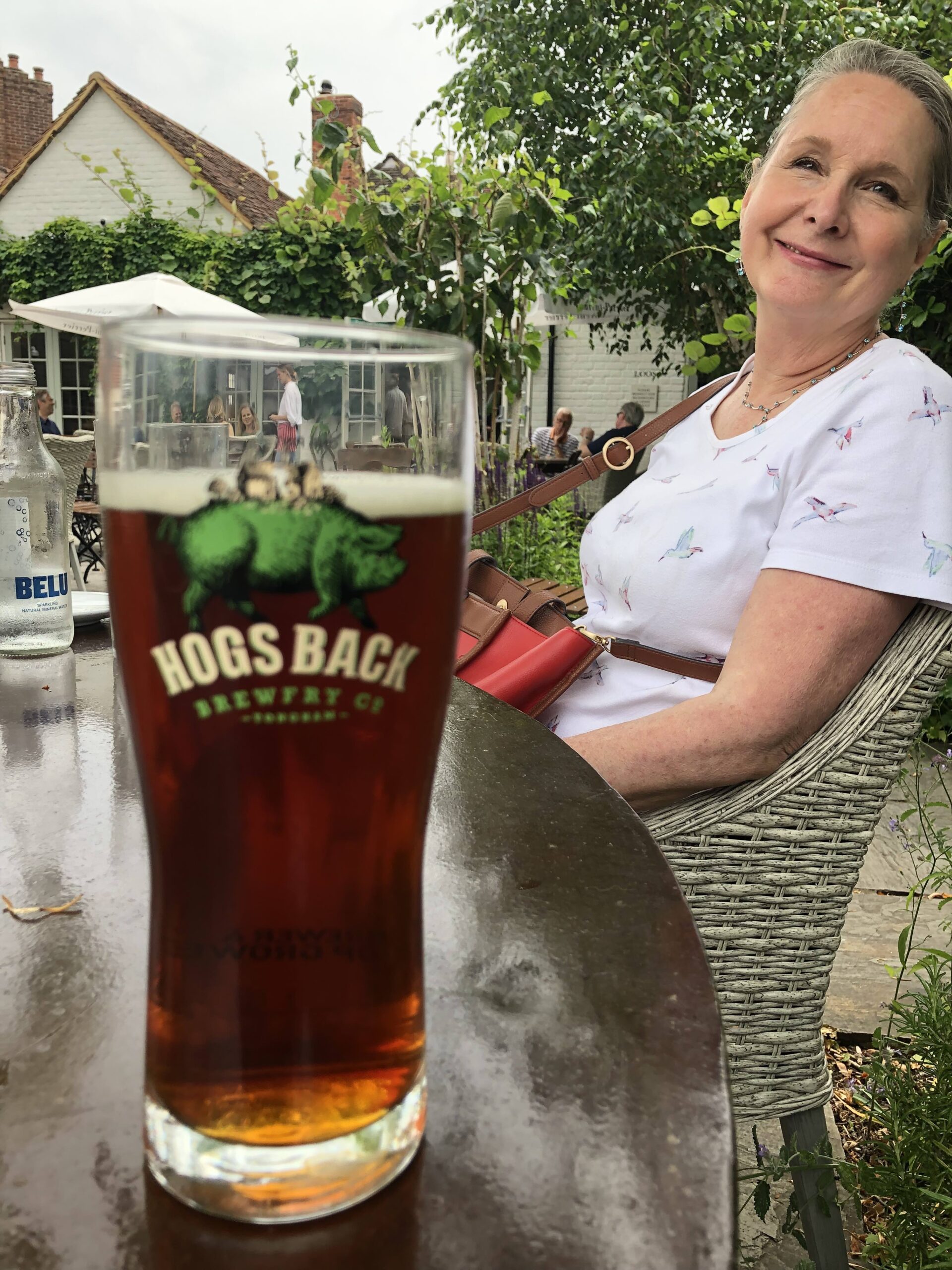 It's been seventy years since I first walked these lanes. British rural life seems much the same as I remembered.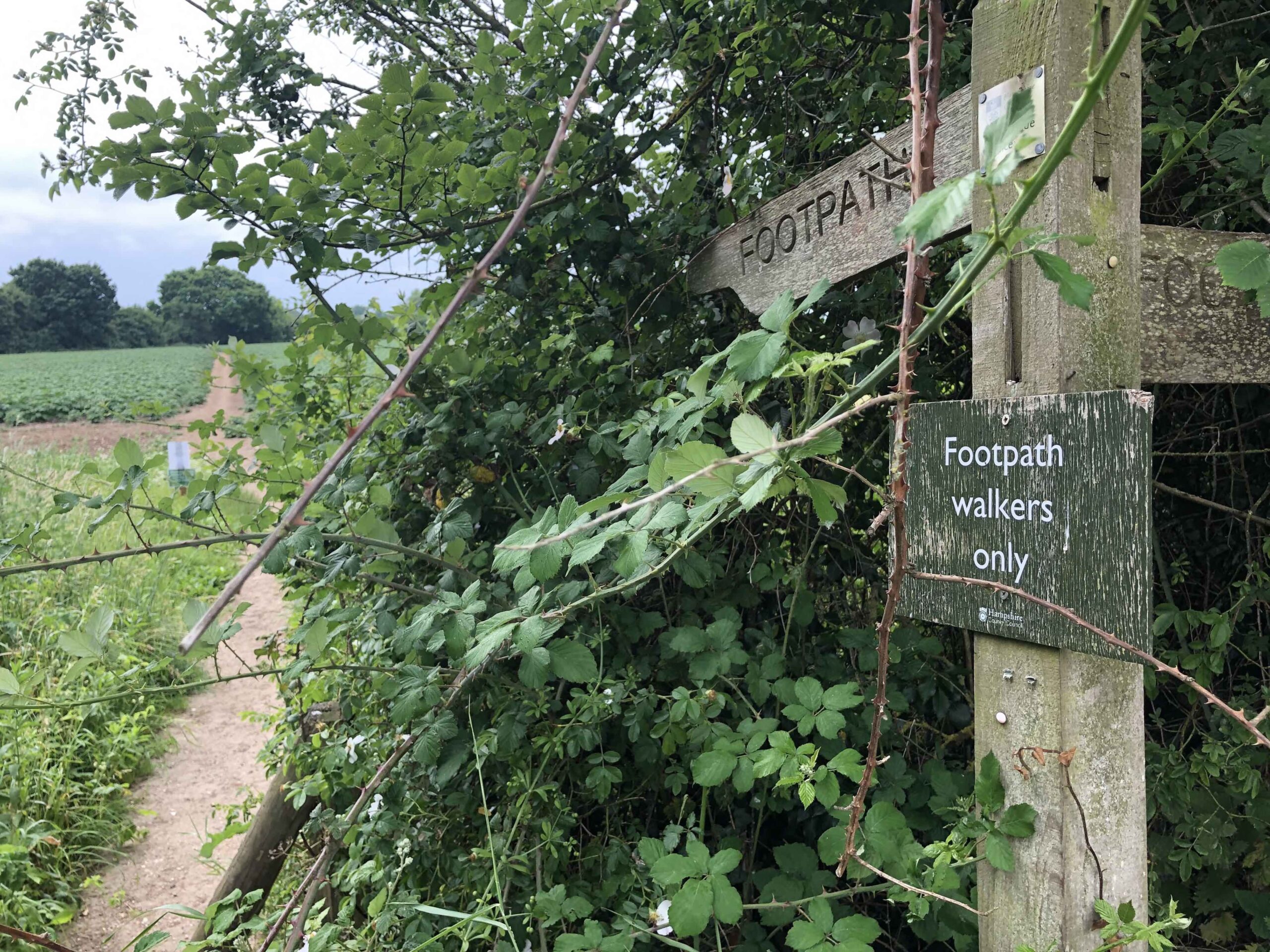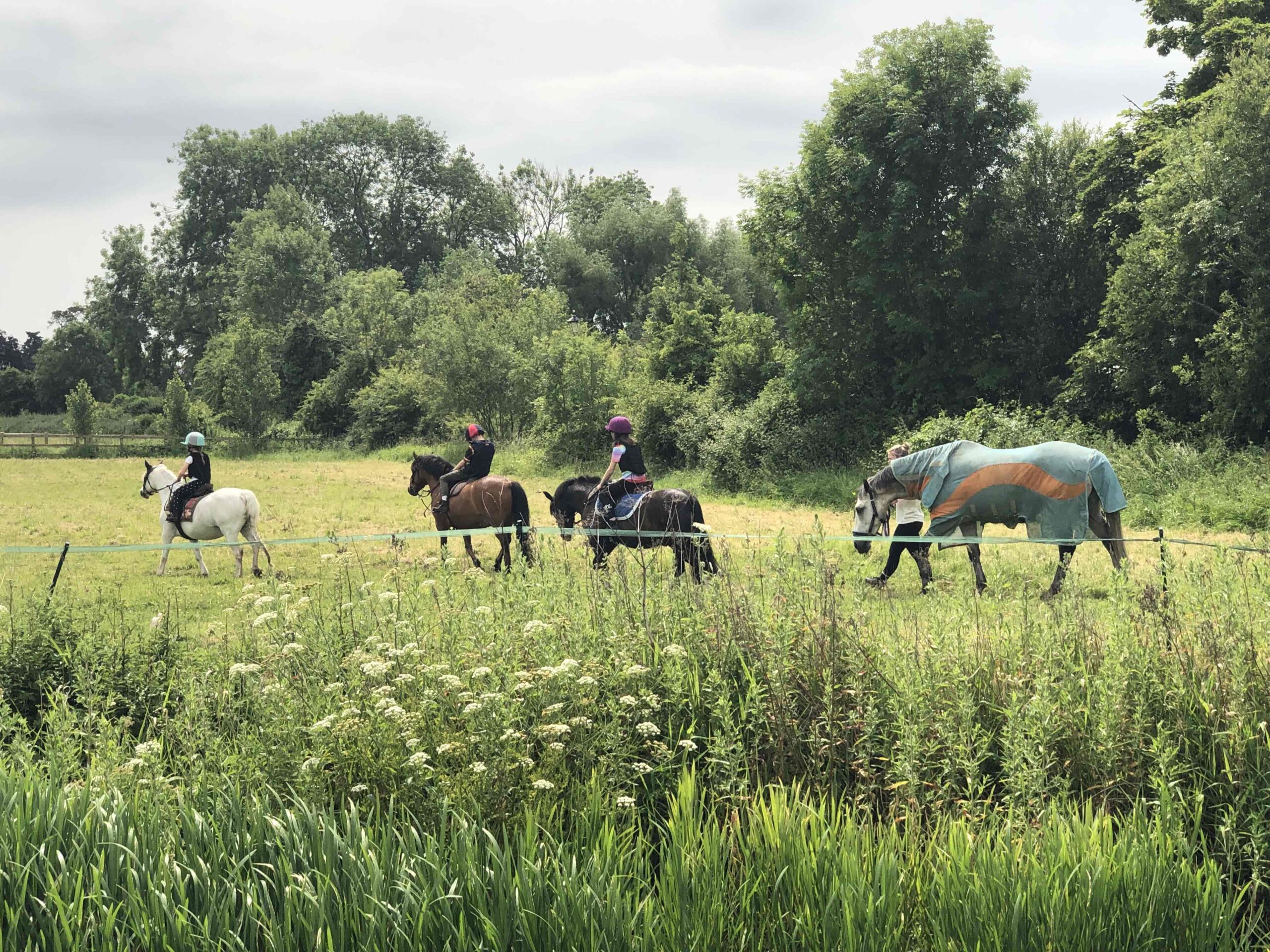 A two mile walk from the High Street is the little hamlet of North Warnborough, through which runs the Basingstoke Canal.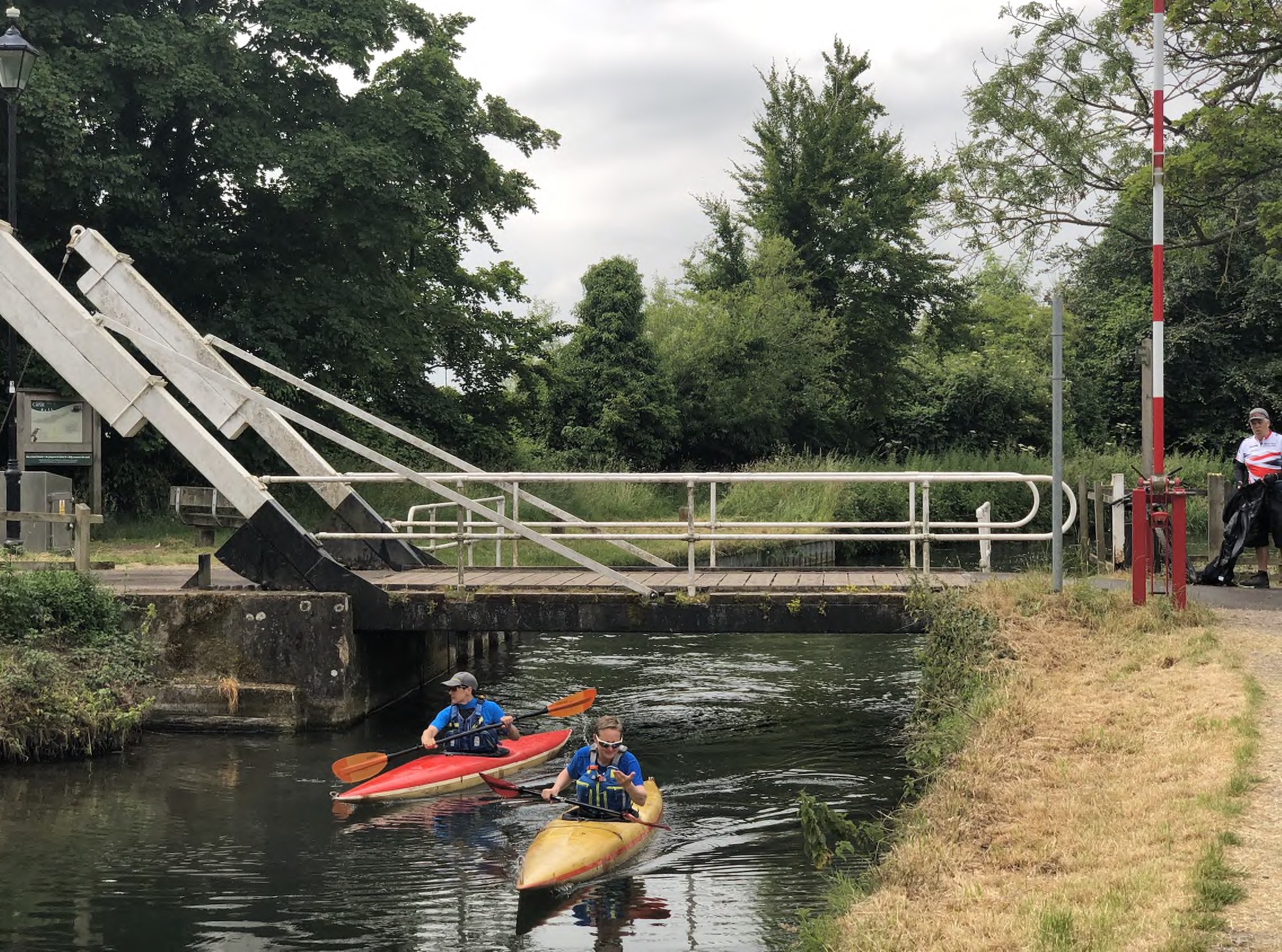 Thirty miles long, the canal issues permits for a limited number of houseboats, either as holiday homes or tourist rentals, which can moor alongside houses with the owners' permission. Nice solar power panels.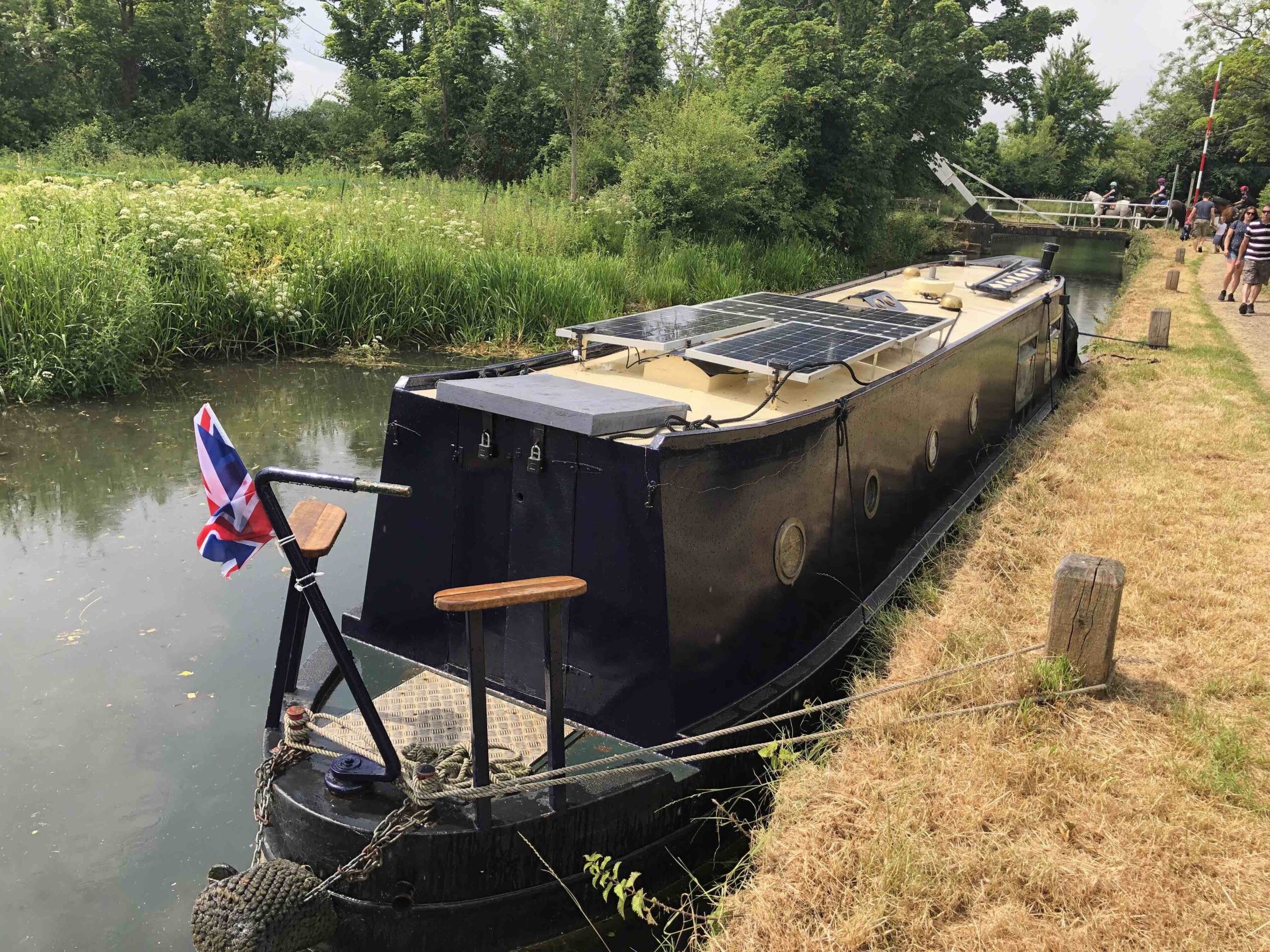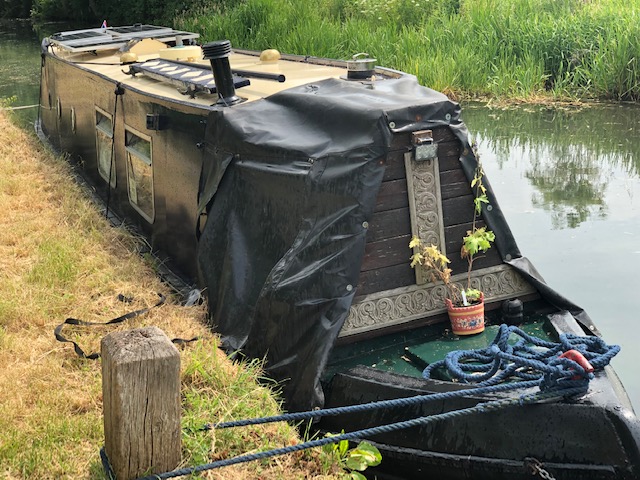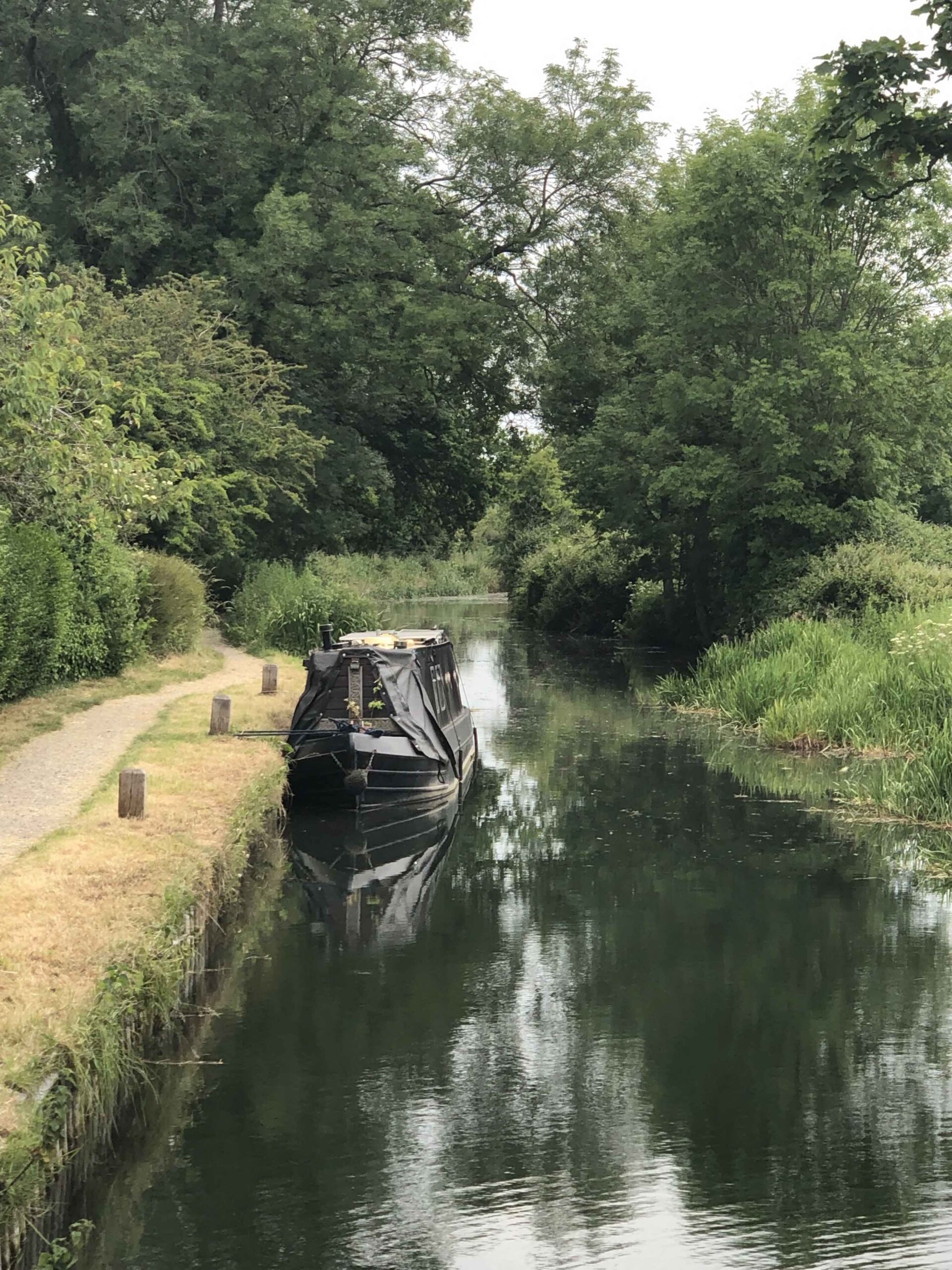 Naturally, the Cary Grant / Sophia Loren romantic, if lightweight, comedy HOUSEBOAT a (1958) is the first  title that springs to mind. Grant's wife Betsy Drake wrote the original script, and Grant originally intended that she would star with him. After Grant began an affair with Sophia Loren while filming THE PRIDE AND THE PASSION (1957), he arranged for Loren to take Drake's place with a rewritten script for which Drake did not receive credit. Grant's affair with Sophia Loren ended in bitterness before The Pride and the Passion finished shooting.  Grant had hoped to resume the relationship, but Loren meantime had agreed to marry producer Carlo Ponti instead. This caused serious problems on the Houseboat set. Check out the cringe-worthy, sexism-driven trailer.
Walking further down the canal, you will come across Odiham Castle.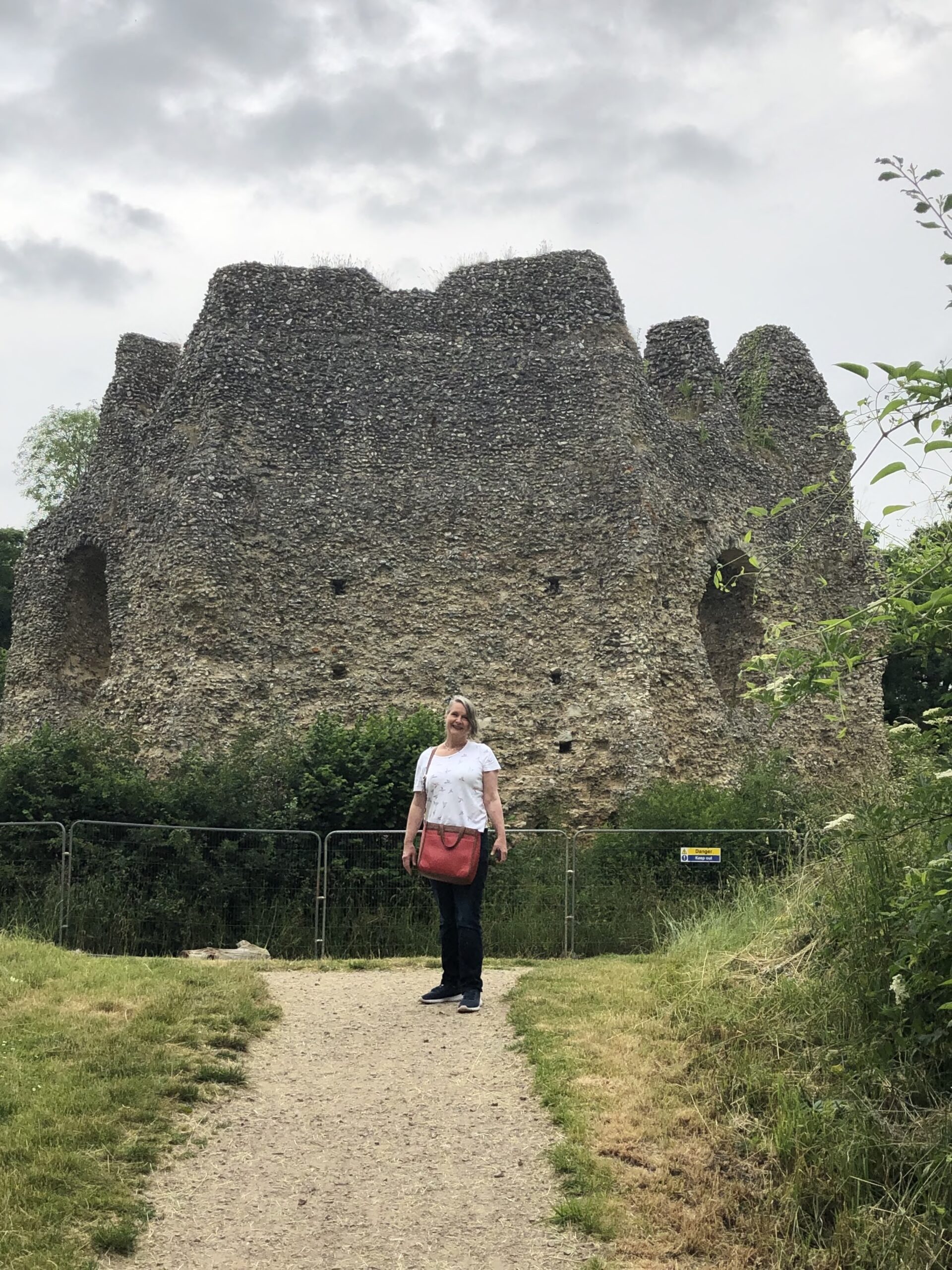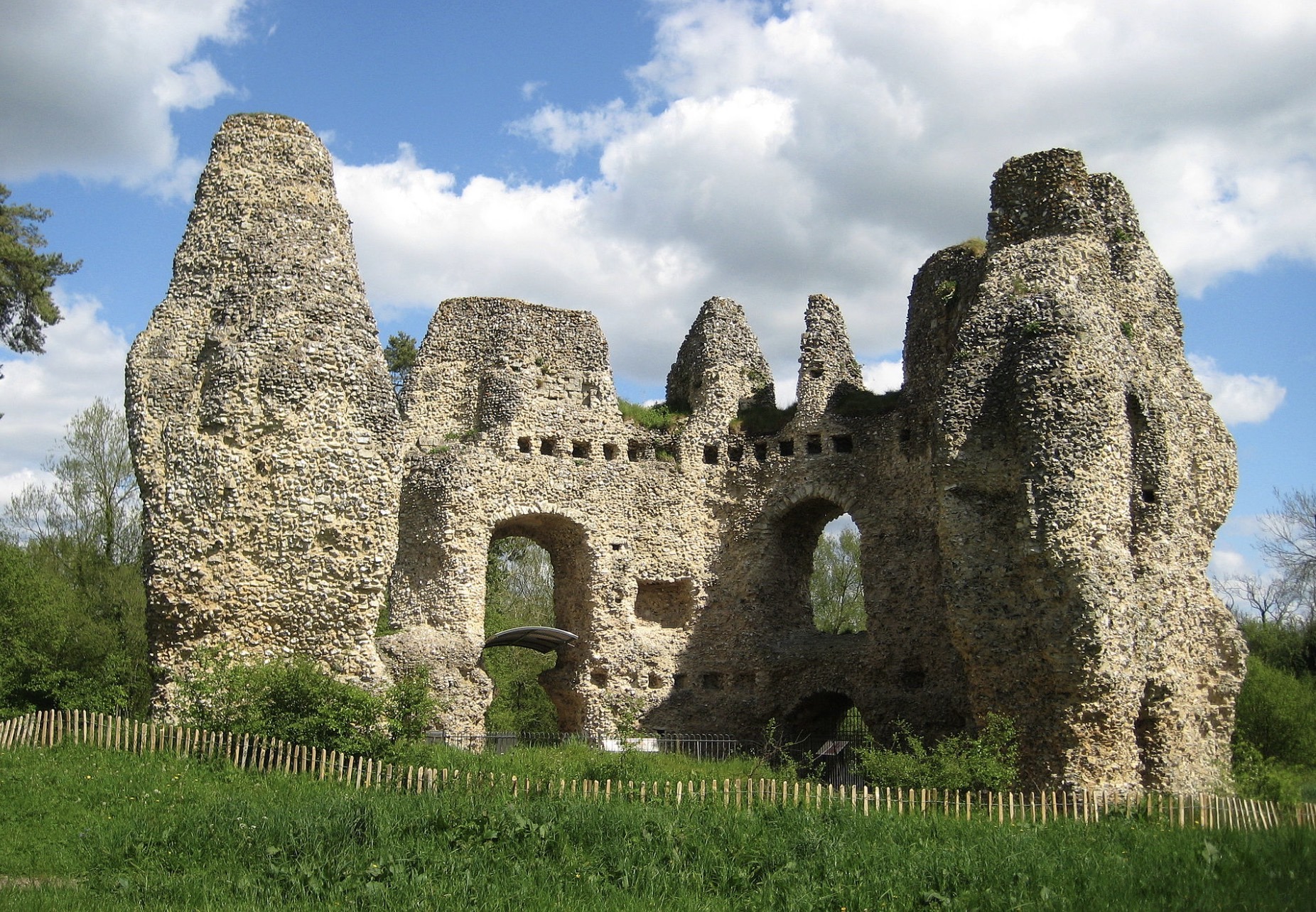 In my childhood this place was known as King John's Hunting Lodge. He built this multi level stronghold over seven years at a cost of one thousand pounds. It was well appointed, with bedrooms, a banquet hall, and tapestries hung to  disguise the walls made from flint stones.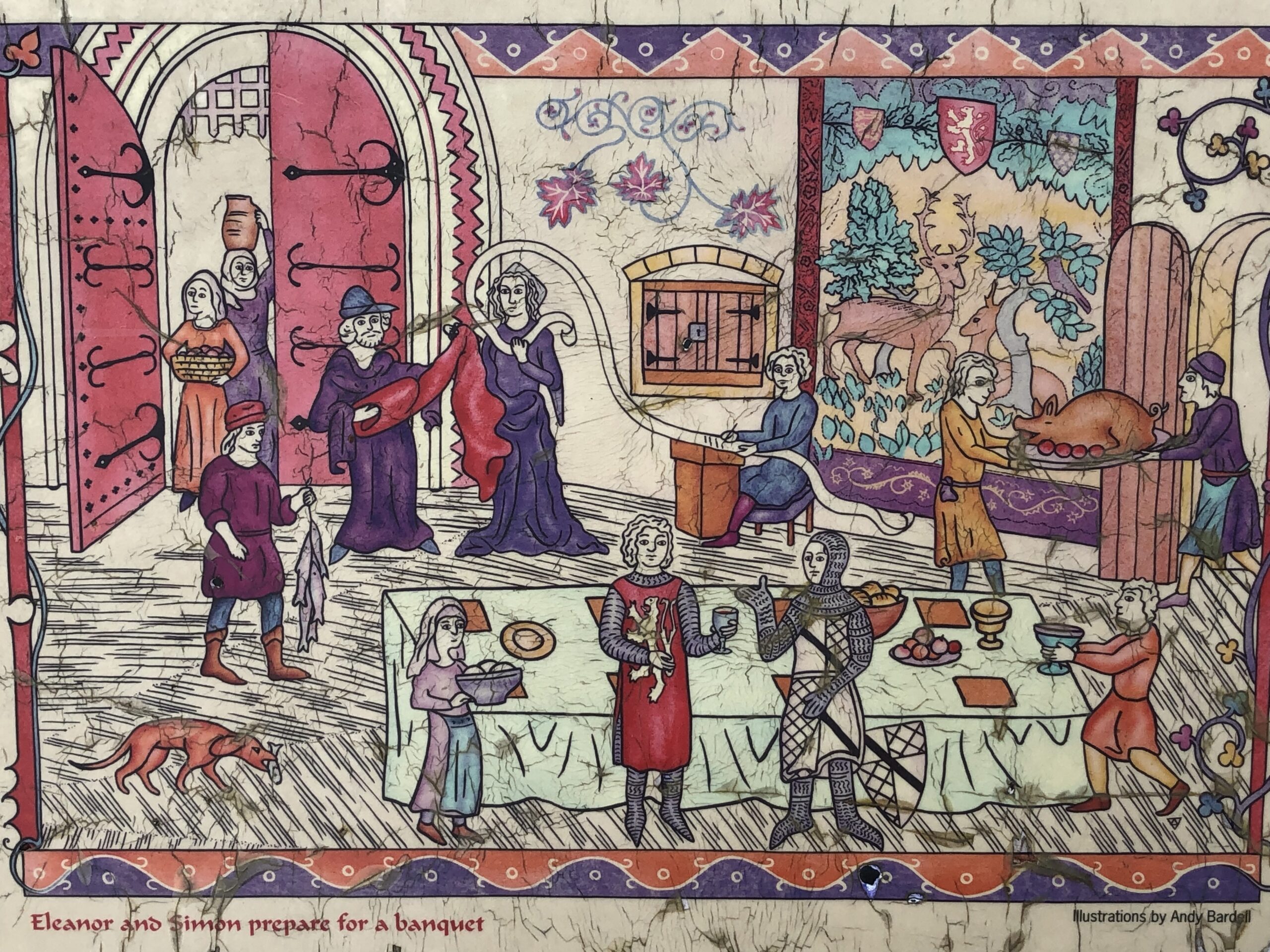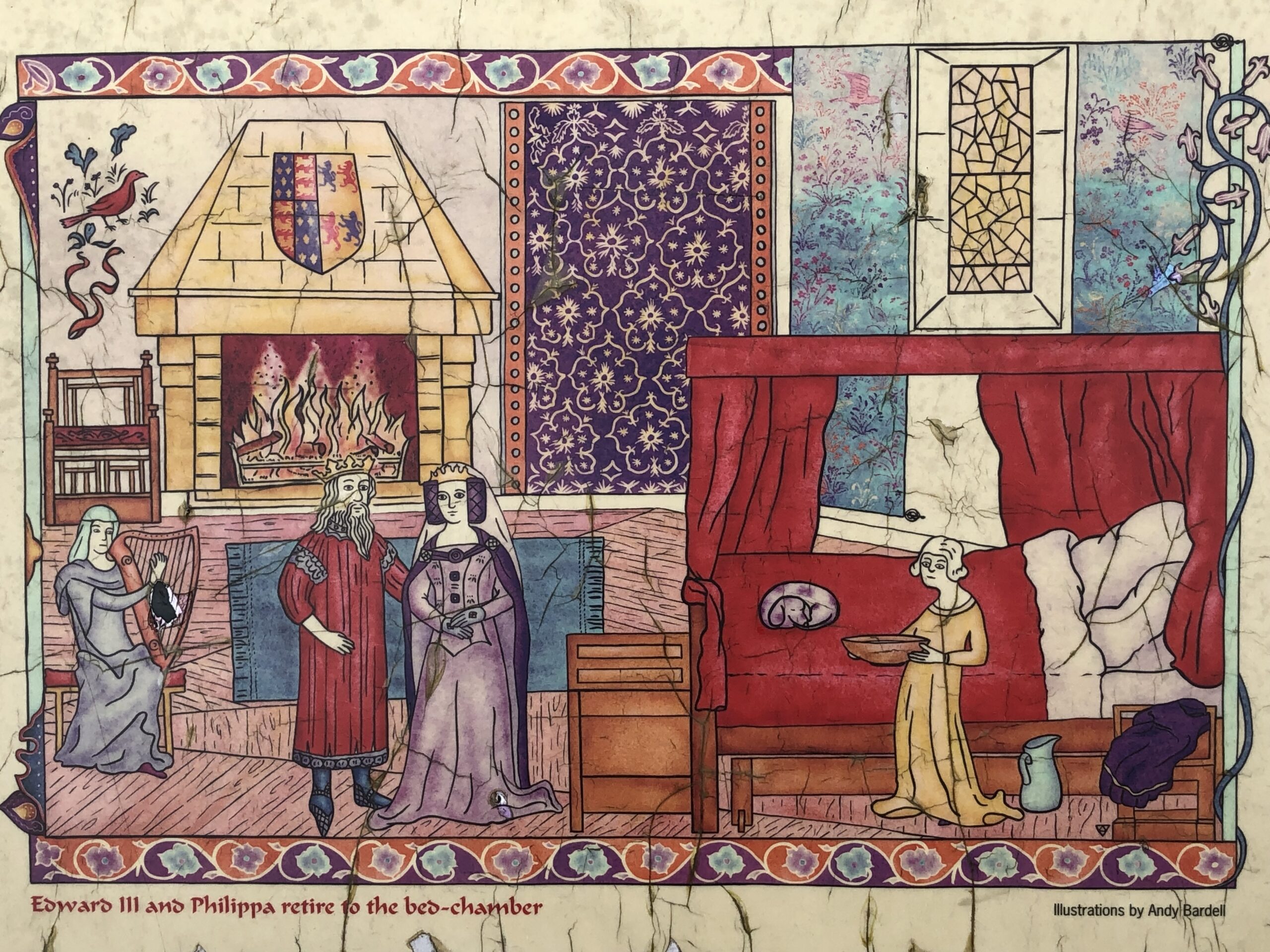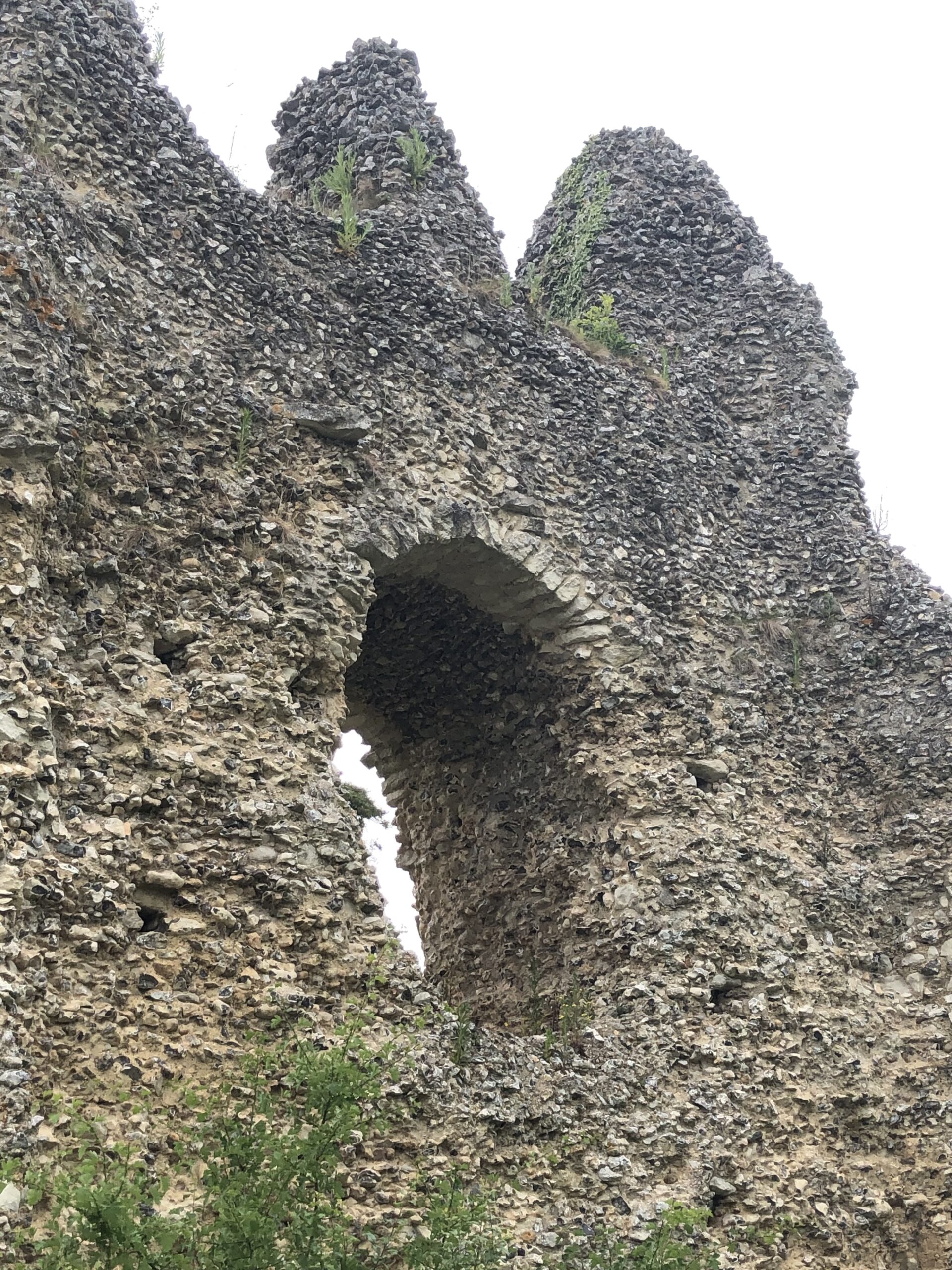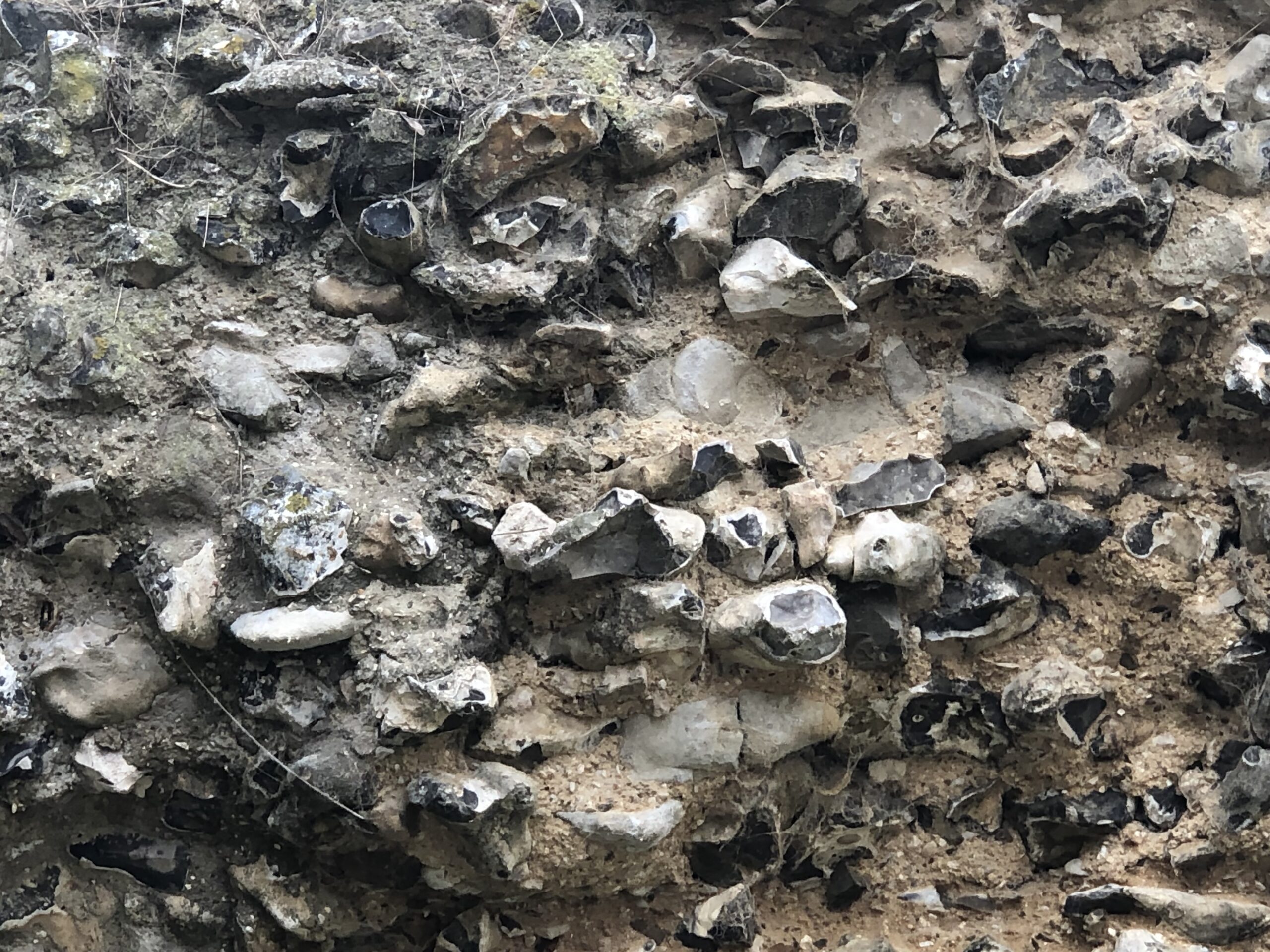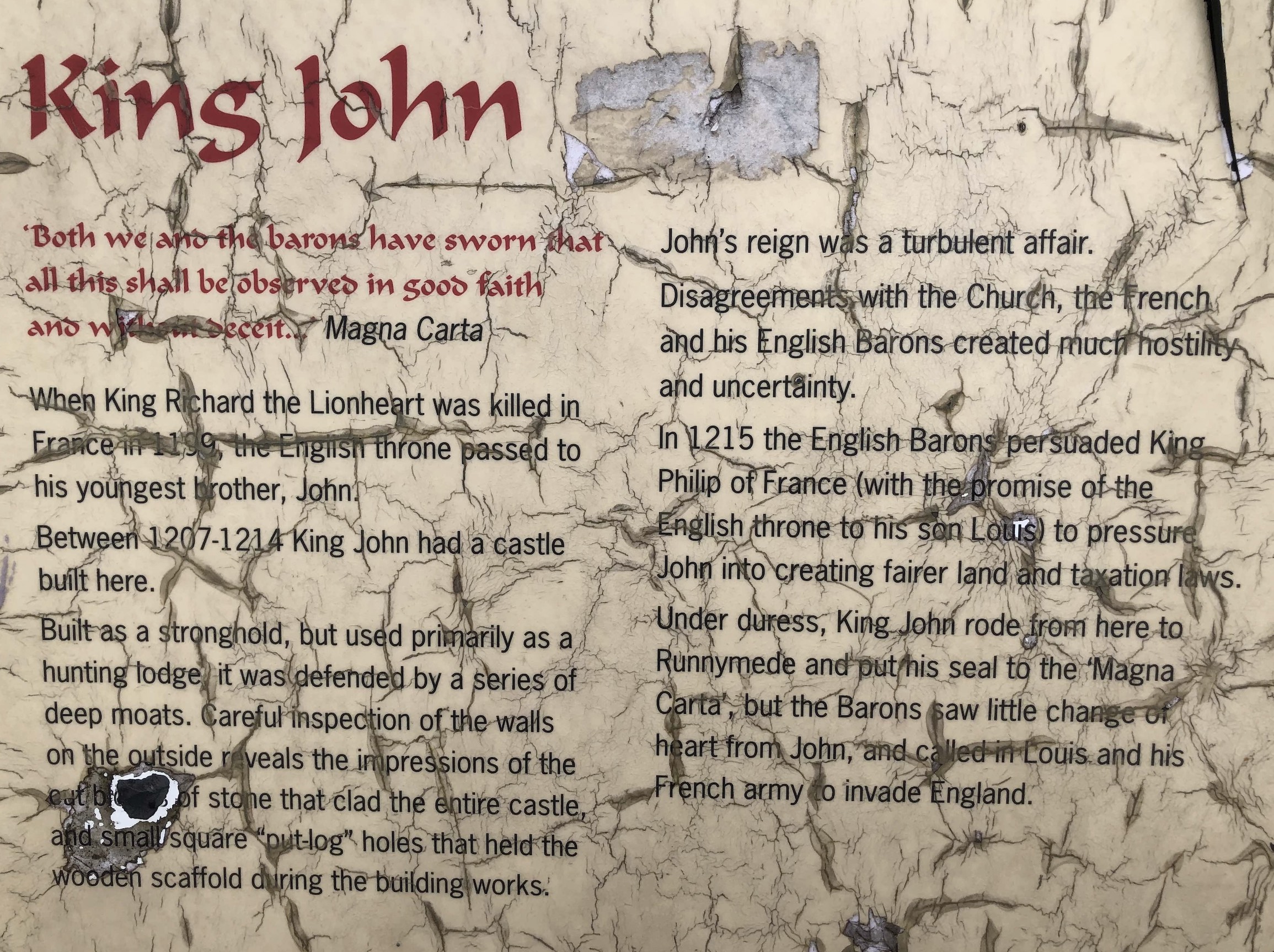 King John rode to Runnymede from his hunting lodge, and reluctantly signed the Magna Carta, the first document to limit the powers of the King, which became a cornerstone of constitutional rule.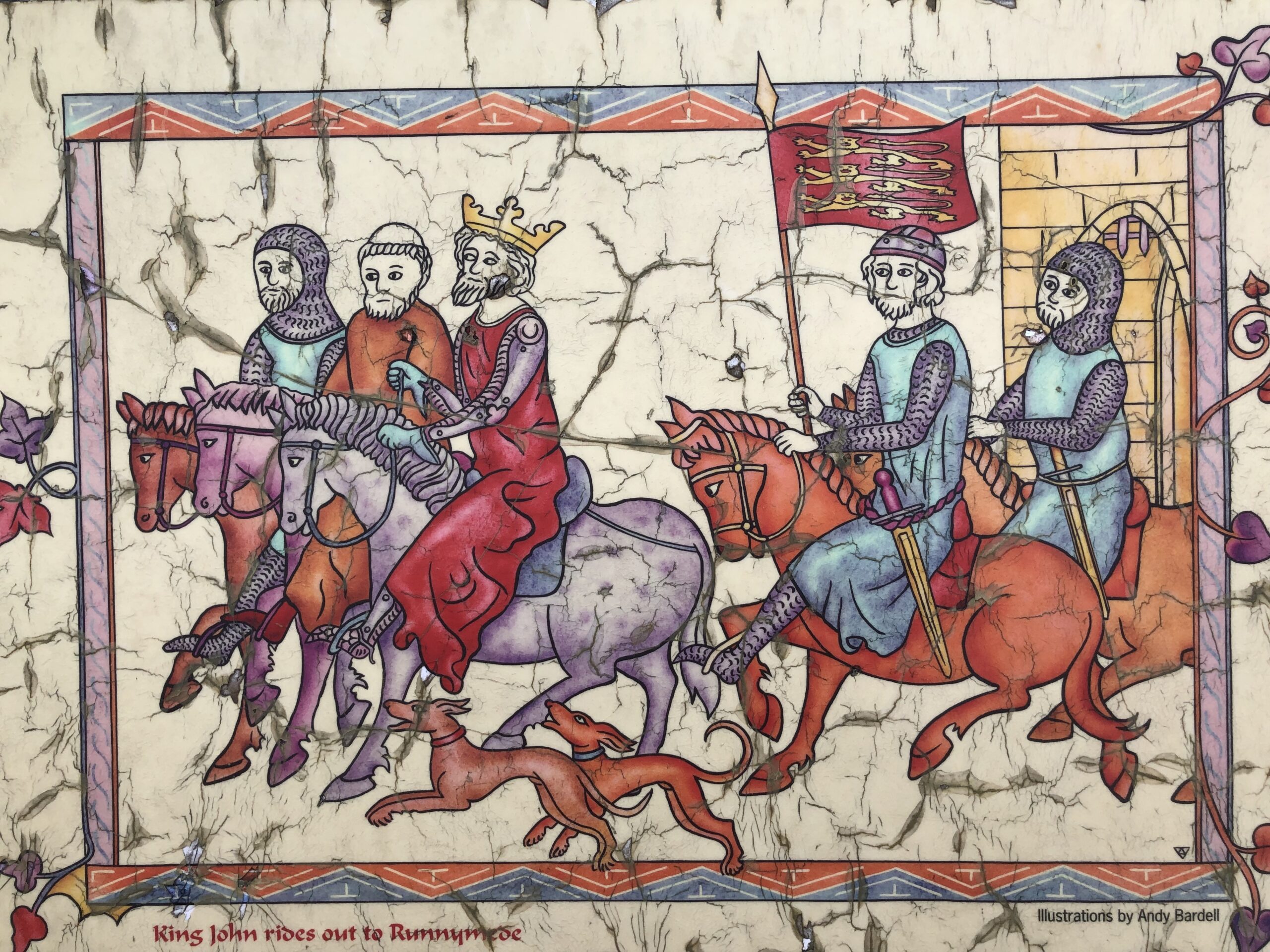 John had no intention of honoring the agreement, and spent the remaining year of his reign laying siege to the castles of his rebellious barons, as depicted in the British movie IRONCLAD (2009), starring Paul Giamatti.
Odiham Castle itself was attacked by France the next year, before King John died of dysentery, and France made a deal with his son, who became King Henry the Third.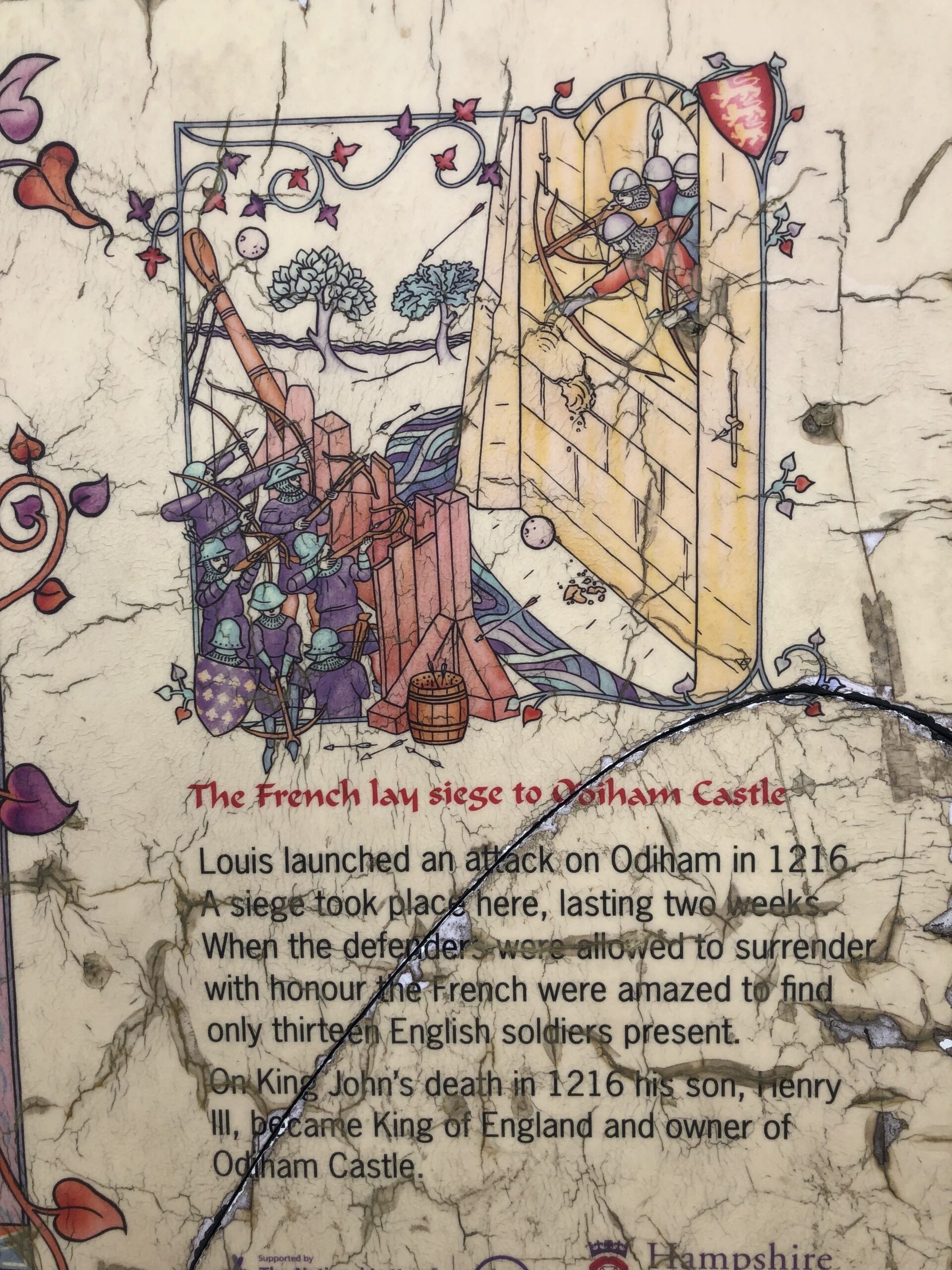 With many twists and turns, representative democracy slowly evolved in England into what it is today, a political system in which the citizens have the right to change their government at the ballot box, and the government has the right to replace a leader who has proved too many times to be untrustworthy. The British system has many safeguards in place which prevent an autocrat from hanging onto power. The United States, which has derived so many governmental precedents from Britain, has profited from its example.